By Jodi Vella, Zeta Tau Alpha, Mother of Ashleigh Giannukos, Eta – University of Alabama
The ADPi Experience, From a Mom's Perspective
It is difficult to put into words how much ADPi means to my daughter, my family, and me. In just one year, we have enjoyed so many great experiences, made so many wonderful memories, and have forever friends because of ADPi.
Last August of 2022, we moved my daughter, Ashleigh, from our small town in Texas to The University of Alabama where she decided to further her education and join a sorority, therefore participating in Bama Rush. Yay! I was so excited for Ashleigh. Going through Rush and being in a sorority when I was in college was one of the highlights of my life. I have lifelong friends, made great memories, learned so much, and have sisters for life, so I was thrilled Ashleigh decided to "Go Greek". I was worried about everything and just prayed for Ashleigh to keep her confidence, be herself, stick to her values and morals, gain real forever friendships, and have fun. Ashleigh was nervous to say the least, especially since she knew very few people at The University of Alabama and was so far from home (over nine hours). The entire Rush process was intimidating, yet so worth it. Ashleigh learned so much about each of the sororities and met so many amazing young ladies from all over the country. I decided to stay in Tuscaloosa during Rush so I could support Ashleigh and experience Bid Day with her. As a mom, my heart was aching, however, I was hopeful that Ashleigh's experience would help her learn more about herself and know more about what she wants to gain from sisterhood and her college experience. As Rush progressed, she felt more comfortable, more excited, and really impressed when she was at the ADPi house. The relatable, fun, beautiful, kind, smart, funny, and sophisticated sisters at the gorgeous Pi Palace made Ashleigh feel comfortable, welcomed, heard, appreciated, special, and most importantly, a place where she could be her true self and feel at home. I am so proud of my daughter for "trusting the process," and on Bid Day, August 2022, Ashleigh received the bid she hoped for and ran home to the "First and Finest" ADPi sorority.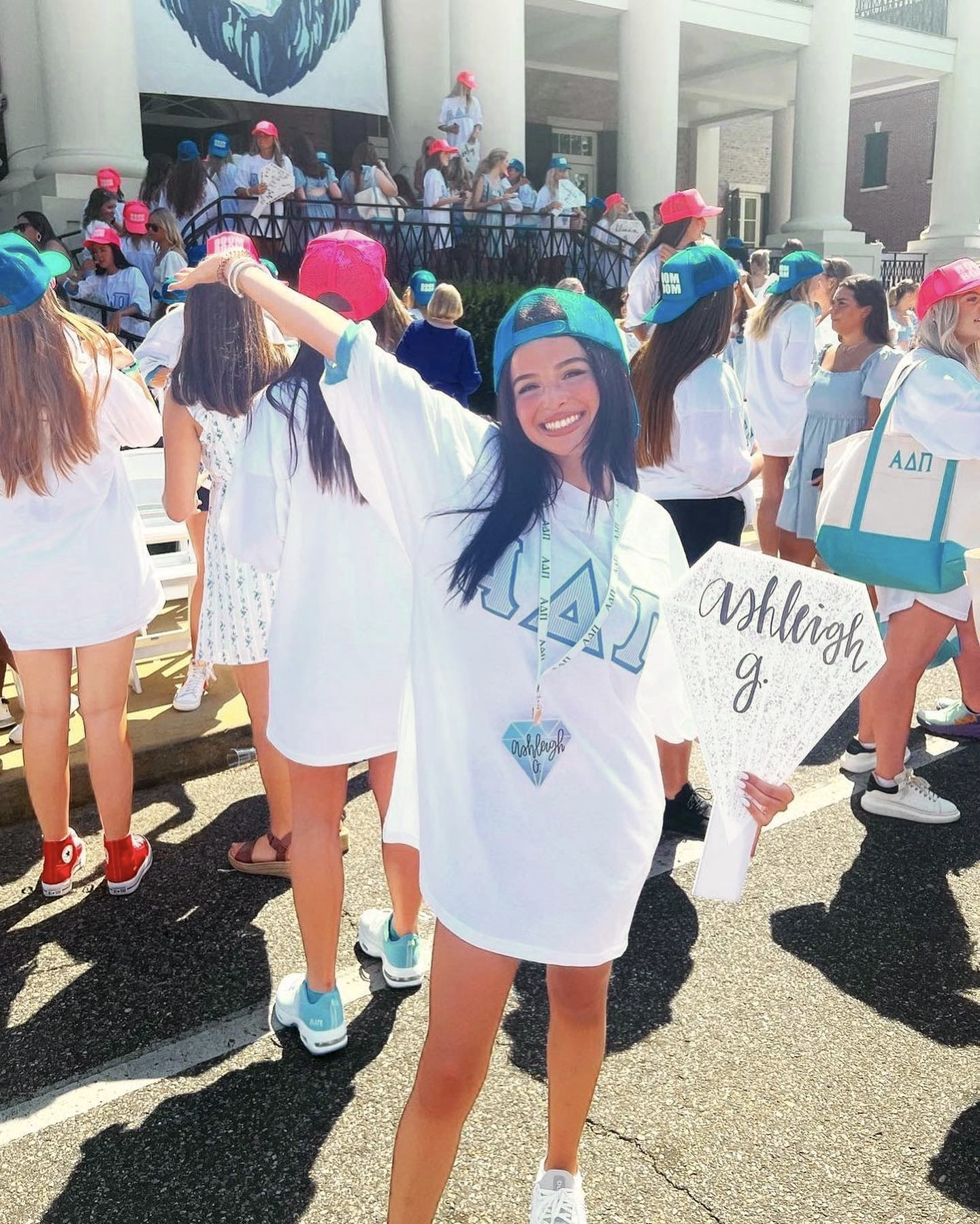 It was quite an exciting experience, and I am so grateful I was there to witness and experience it with Ashleigh. What a day! I was able to watch her run home to many new and instant best friends who were excited to greet her and her new pledge sisters. I gave her a big congratulatory hug and met her incredible Bid Day Big Sister, new friends, fellow moms, and so many people who became instant family. We had a blast celebrating Bid Day, and I immediately felt at home surrounded by excitement, new friends, and love. I knew Ashleigh was where she was meant to be which made me, as a mom, feel so grateful and at ease before heading back home to Texas and leaving part of my heart in Alabama.
Ashleigh's dad, little brother, and grandparents were also able to experience ADPi during Family Weekend. We were warmly welcomed by all the young ladies and staff at the ADPi house. We had a wonderful lunch, toured the beautiful ADPi house, attended family events and the football game, met other families, and felt at home. Later in the spring of last year, Ashleigh's dad and I greatly enjoyed ADPi Parent's weekend. We were so grateful for all the fun events and had a blast with our daughter, her sisters, and their families.
It makes me so happy that Ashleigh is experiencing ADPi and college life to the fullest. Ashleigh has joined many clubs and organizations and made the Dean's List for both the Fall and Spring semesters. Ashleigh is now a Sophomore, living in the ADPi sorority house, and loving it! She recently experienced Bama Rush from the recruiting side. Ashleigh formed special connections with potential new members and became especially close with one in particular who became Ashleigh's Bid Day Little Sister. Ashleigh was thrilled to welcome her home to ADPi on Bid Day.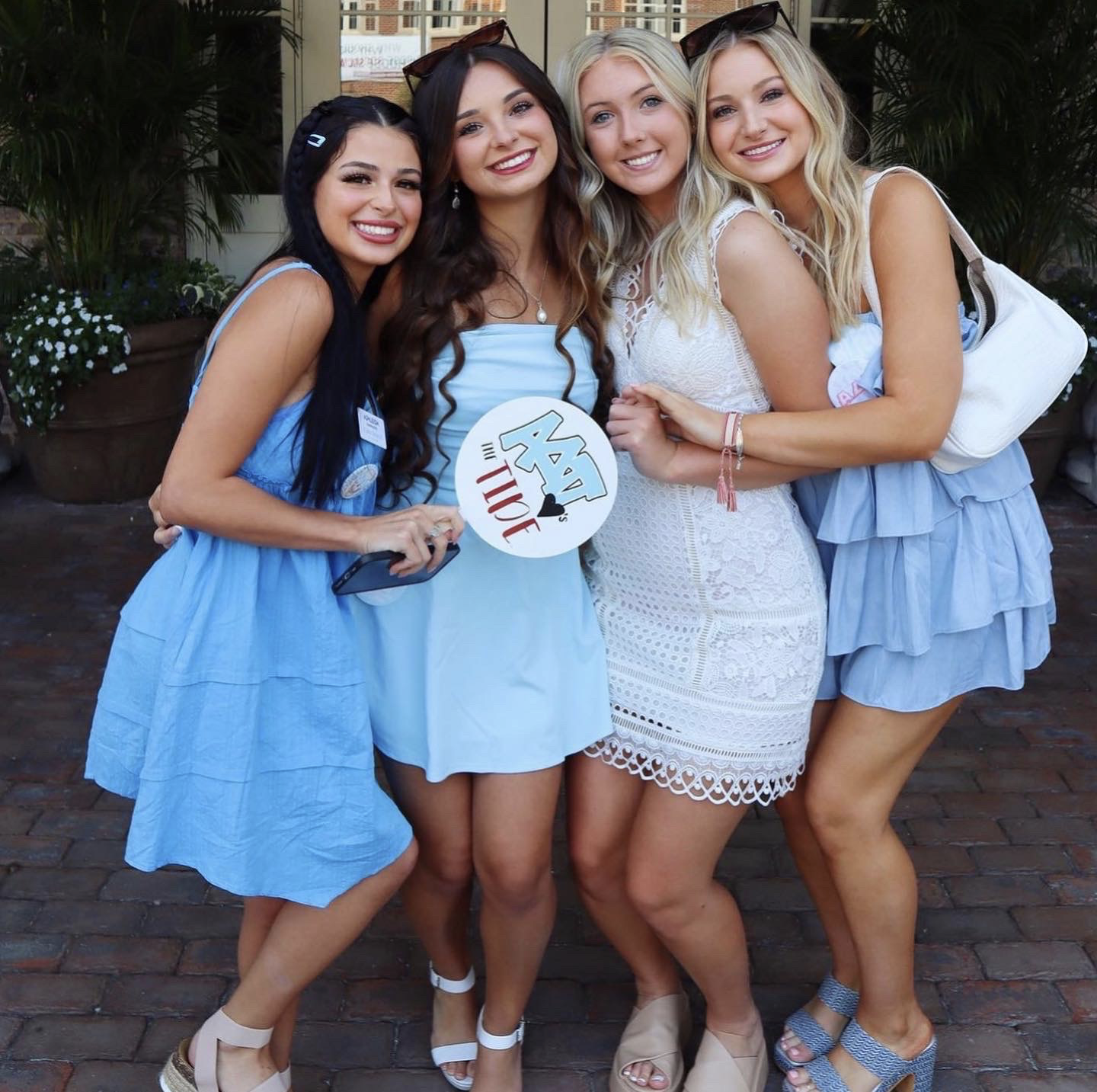 Ashleigh continues to meet so many incredible new friends who have become forever best friends and sisters. Thank you, ADPi, for making a positive and profound impact on my daughter, my family, and me. I cannot wait to see what the future brings and experience all ADPi has to offer. This is just the beginning.
---
---