A Plan Derailed
It all began in 1977, two years before Ronald McDonald House, later Ronald McDonald House Charities (RMHC), was officially selected as the philanthropic partner for Alpha Delta Pi. Grand President Ginny Rosenberg Stafford, Alpha Beta—University of Iowa, asked Joanne Henthorne Kirlin, Delta Delta—University of Arkansas, to serve as the National Service Project Chairman. Her mission was to select one charitable organization to benefit from the philanthropic efforts of our collegiate chapters and alumnae associations.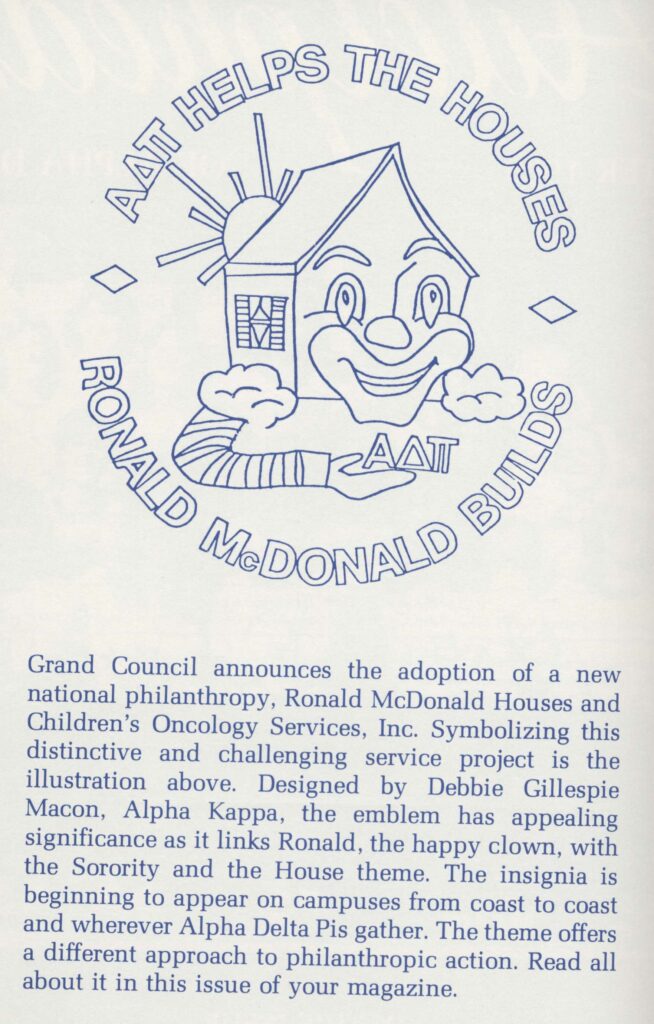 Joanne did extensive research at her local library into different philanthropies but did not come across RMHC. She later learned they were known as Children's Oncology Services at the time. Joanne found another charity that she believed would be a good partner with ADPi and spoke with the organization several times over the next biennium. The organization planned to send representatives to the 1979 Grand Convention in Minneapolis where the partnership would be announced. They even sent more than 1,000 pink erasers stamped with their logo to Joanne, to be taken to Convention.
About a week before Convention, the unthinkable happened. Joanne learned that the organization she had selected had already partnered with another sorority and that they had announced their partnership at the other sorority's Convention. Absent an understanding to partner exclusively with each other, the partnership plans were cancelled.
Joanne arrived at Convention without a plan and without a charity to announce as our philanthropic partner. ADPi Executive Director Maryann Friend Gillespie, Alpha Kappa—University of Tennessee, Knoxville, had mentioned Ronald McDonald House and discovered that one of the hotel staff members was active with the Minneapolis house. The staff member referred Joanne to Bud Jones and Dr. Ed Baum at RMHC's headquarters in Chicago.
Bud, as it turned out, was a member of Sigma Nu from the University of Arkansas – the same campus where Joanne joined Alpha Delta Pi. They became fast friends, and so began the partnership between Alpha Delta Pi and Ronald McDonald House Charities.
100th Ronald McDonald House
In 1986, Ronald McDonald House opened its 100th facility. Grand President Jane Fiedler Madio, Gamma Omicron—Susquehanna University, and National Service Project Chairman Emily Lusby Mackebee, Alpha Kappa—University of Tennessee, Knoxville, gave a special presentation during the celebration near the Schneider Children's Hospital at Long Island Jewish Medical Center in Long Island, New York.
$1,000,000 Milestone
By the 1987 Grand Convention, Alpha Delta Pi chapters and alumnae associations had raised more than $1,000,000 for Ronald McDonald House Charities. McDonald's Corporation hosted a "Thanks a Million" luncheon during Convention that year in Scottsdale, Arizona, to celebrate the milestone.
Establishing a Permanent Connection
As part of the We Believe Campaign, Jan Foltz Larson, Alpha Eta—Kansas State University, established the Ronald McDonald House Charities Endowment at the Alpha Delta Pi Foundation in 2014. This endowment creates a permanent bond between Alpha Delta Pi and RMHC, providing an opportunity for ADPi to support Ronald McDonald House worldwide, even in locations where there is not a local chapter or alumnae association to support it. Our goal is to reach $1,000,000 in that endowment fund. Thanks to the efforts of our sisters in hosting additional philanthropy events and earmarking a portion of increased fundraising for existing philanthropy events for the endowment fund, we are just over 65% of the way to that goal.
The Alpha Delta Pi Foundation announced the first five grants made possible by the endowment fund at Grand Convention 2019. Grants were made to houses that are expanding or do not have a chapter or alumnae association nearby in Arkansas; Bismarck, ND; Idaho; New Mexico; and Siouxland, IA.
Celebrating 40 Years
Looking back over our 40-year partnership with Ronald McDonald House Charities, Alpha Delta Pi has raised more than $15,400,000 for houses in the U.S. and Canada, with more than $1,000,000 raised annually through philanthropy events. Alpha Delta Pi is recognized as Platinum Partner for our combined support of RMHC with our time, talent, and treasure. And in 2016, Ronald McDonald House Charities CEO Sheila Musolino joined Alpha Delta Pi as an Alumna Initiate.
We find strength and sisterhood in unselfish service to mankind, and especially through our dedication to Ronald McDonald House Charities.
---
---